2022 will see for the first time in over two years the Circus of Horrors is back with its latest incarnation 'THE WITCH' – A sensational new Phantasmagoria which encompasses amazing beautifully bizarre circus acts with an original rock score, and a sinister story of witchcraft and the darkest of magic. A show that will have you on the edge of your seat when not falling off it with laughter.
Contact us now for 2022 and 2023 dates.
The diversity of the Circus of Horrors fits perfectly with modern day theatre, both in its cast & crew members to the audience it attracts. Combining dare devil bizarre & beautiful circus acts all given a horror theme and performed to original rock music.
The Circus of Horrors has always attracted lots of media attention, after many TV appearances, here is a selection of news stories from the last few weeks:
The Mirror – Wetherspoons Barmaid becomes Pickled Person
The Mirror – Circus performer beats fuel crisis
Talent Recap – Sword Swallower Joins Jab Army
Daily Mail – Circus Trick or Treat Amanda Holden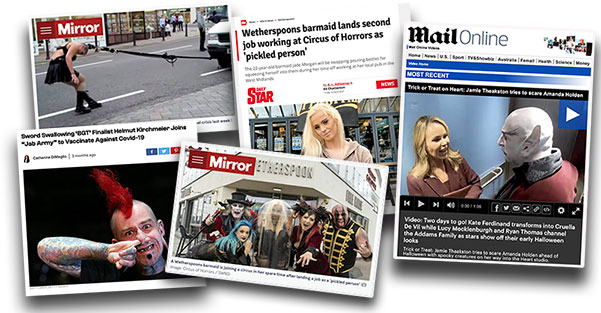 The Circus of Horrors has a unique ability to take the extreme to the mainstream in a way no other show can, it appeal's to a huge array of rock & comedy fans & theatre goers alike.